Thank you for participating in the Choose Physical Therapy for Safe Pain Management Campaign:
I AM STRONGER than Painkillers #KansasStronger
Please join us in promoting opioid abuse awareness and promoting Physical Therapy as an alternative or at least mutually with pain medications to improve overall patient outcomes.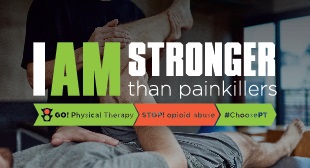 Research has shown that physical therapy in the treatment of low back pain can be more effective with lower risk and less costly than surgery.
Please feel free to download these PDFs to disseminate in your local campaigns. If you need assistance with printing these, do not hesitate to contact Amber Dunn with RSA Marketing.
Here is some local news regarding Kansas and Opioid Abuse and current interventions:
Here are some National initiatives and resources:
Public Service Announcement from the American Physical Therapy Association
Drug Overdose in Kansas 2017
CDC Opioid Guideline
CMS Opioid Misuse Strategy