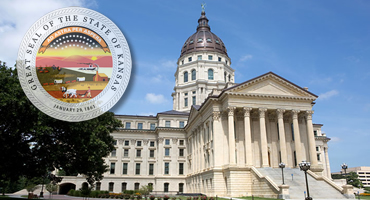 Mark your calendars for Thursday, March 21st for our next KPTA Day on the Hill event in Topeka! We hope to fill the Capitol with PT's, PTA's, and students to share the value of physical therapy.
What can you expect at our 2019 Day on the Hill event? We will have some of our legislators speak to our group. We will then have time to meet with our legislators to discuss the hot topics for PT's, PTA's and our patients.
PROGRAM
7:30 am: Arrive at Capitol
8:00 am: Light breakfast provided
8:15 - 8:30 am: KPTA President, Susie Harms, PT, MHS and KPTA Legislative Chair, Jennifer Caswell, PT, DPT — Welcome and review of talking points for meetings with legislators
8:30 - 9:30 am: Legislative leadership speakers - TBA
9:30 am: Photo with Governor Laura Kelly (if available)
10:00-2:00 pm: Meet with legislators
Opportunities while at the Capitol:
Sit in on the House Services Committee Meeting
Sit in on the Senate Committee Meeting
Capitol historic tours
Dome tours
We have a lot of new legislators in Topeka and now is the time for our physical therapy community to step up and share with them.
Some of our Talking Points for the day will include:
What is Physical Therapy?
Most people have never experience physical therapy and they might not know much about what we do, now is our time to educate them about our field.
Opioid Epidemic
Physicians are being told to prescribe less and less opioids and research shows that physical therapy is a great alternative for these patients.
Telehealth
Telehealth is currently being used in the Veterans Administration and would be very beneficial for our patients, especially in rural areas. Right now, physical therapy isn't a service that is payable using telehealth.
Be a part of the future of physical therapy in our state, we hope you will join us on March 21st in Topeka!